Marie EAMER (GADE) with three of her five children. Louisa, Walter & Sarah (L-R) fathered by Walter EAMER (Snr) who was the son of convict #104 James EAMOUR, who arrived in the Western Australian colony on the ship "Hashemy" in October of 1850.
Welcome!
.... to 'Our Family History'! .. a site published from research into the ancestry of the surname EAMER, and how it found its way to Australia; research inspired by a lack of information that had been handed down to the author during his formative years and fueled by the intrigue of why no other family with the name of EAMER could be found, at that time, living in Australia.

Anecdotal evidence handed down was that the author's Grandfather was born in the MOUNT REMARKABLE area of South Australia and that he had spent most of his teenage years around the town of QUORN, SA; moving to the goldfields of MEEKATHARRA Western Australia with his family just prior to the turn of the 20th century .... and that the author's Grandfather's mother's family name was GADE, and that they had emigrated from Germany to South Australia. Few other details were known, or revealed, on the GADEs .. and even less on the EAMER line. The author and his siblings had grown up believing that EAMER was their bloodline, however, as the pages on this site will reveal their true lineage is that of INGLIS ... and perhaps therein lies the reason for the apparent secrecy regarding their ancestry.

As with all genealogical research it eventually branches into many different 'trees' ... in order to overcome that complexity all research has been kept under one single tree structure. Visitor who are not connected to the main topic of research published on this site might like to start with the 'Surnames' menu, found under the 'Find' drop-down [top right], to immediately see if there are any names in common with their particular research.
Happy Hunting!

PS: To view details of the living an account needs to be created. GOTO 'Login' for that.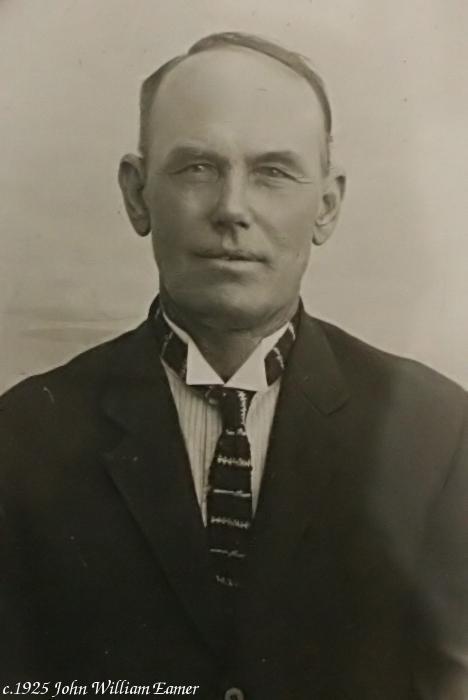 John William EAMER when serving on the Meekathara Roads Board c.1920. John was the first child of Marie GADE, born out of wedlock to Samuel INGLIS in 1879 in Melrose, South Australia.
Top 100 Surnames in Our Family Tree